RIDE-IN BIKE SHOW
June 13, 2019 @ 9:30 am

-

2:00 pm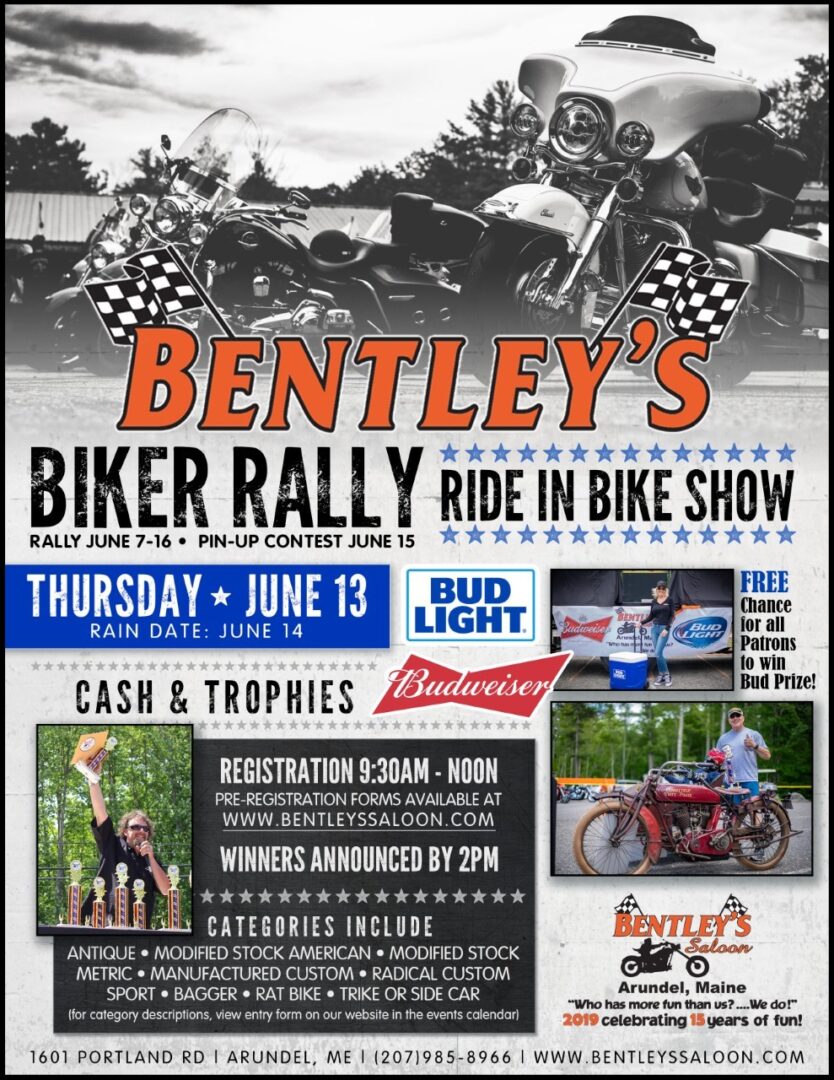 Due to 100% rain prediction for Thursday morning, our Ride-In Bike Show is postponed to Friday. Same time 9:30 am til 2 pm. Free Motorcycle License Plate Frames to all who enter and free Bentley's Saloon 15 Year Anniversary Pucks/Coasters and calendars for everyone attending show.
Bentley's Saloon Biker Rally Ride-In Bike Show Sponsored by Budweiser

BIKE SHOW RULES
All bikes must be operable and licensed.  This is a Ride-In Show. If you must trailer your bike to the event, you must start it and ride from the parking area to the Bike Show area to be allowed in the show.  Contestants are responsible for choosing the correct class for their bikes.   The judges reserve the right to move a bike to another class they believe it belongs in at their discretion. Registration is from 9:30 AM to noon, and winners will be announced by 2:00 PM.  No registration fees will be refunded.
 SHOW CLASSES
Antique – 25 years or older
American Modified Stock – original engine, frame and front-end
Metric Modified Stock – original engine, frame and front-end
Manufactured Custom – any custom bike built by a franchised company. Includes, but is not limited to American Ironhorse, Big Dog, Boss Hoss, Bourget, Big Bear Choppers, Harley-Davidson CVO, Thunder Mountain Custom, etc.
Radical Custom – Builders' Class. This includes any custom motorcycle with major changes to engine, frame, front-end or fabrication). This class includes bike builders, one-offs, completely fabricated bikes and bikes with superchargers, blowers, NOS, etc.
Sport – Any performance oriented street bike built to make hairpin turns and reach overwhelming acceleration and speed.  Includes, but not limited to Kawasaki, Buell, Yamaha, Honda, most BMWs, and many other bikes with strange names using incomprehensible letters and numbers.
Bagger – Includes all baggers, sport and touring.  Bags and windshields mandatory. Fairings optional.
Sidecar and Trike
FOR FUN
**Rat Bike – Worst piece of crap. Can't believe it runs. The nastier the better.
 AWARDS
Best in Show (Spectator's Choice) – $250 + Trophy
First in Class – $150 + Trophy
Second in Class – $50 + Trophy                                
**Rat Bike – First Place Trophy
Participants' Choice – Plaque
Best Chrome – Plaque
Best Paint – Plaque
Best Theme  – Plaque
Disclaimer: Bike Show classes will be judged solely on the personal preferences of the judges. Judges' decisions are based on quality of bike, not brand, or who the owner is. Judges' decisions are final. We do not claim that judges are experts on the subject matter and may not be completely sober at all times. No score sheets will be made available for review by contestants. No whiners or crybabies please… this is a fun event. Spectators get to vote on their favorite!