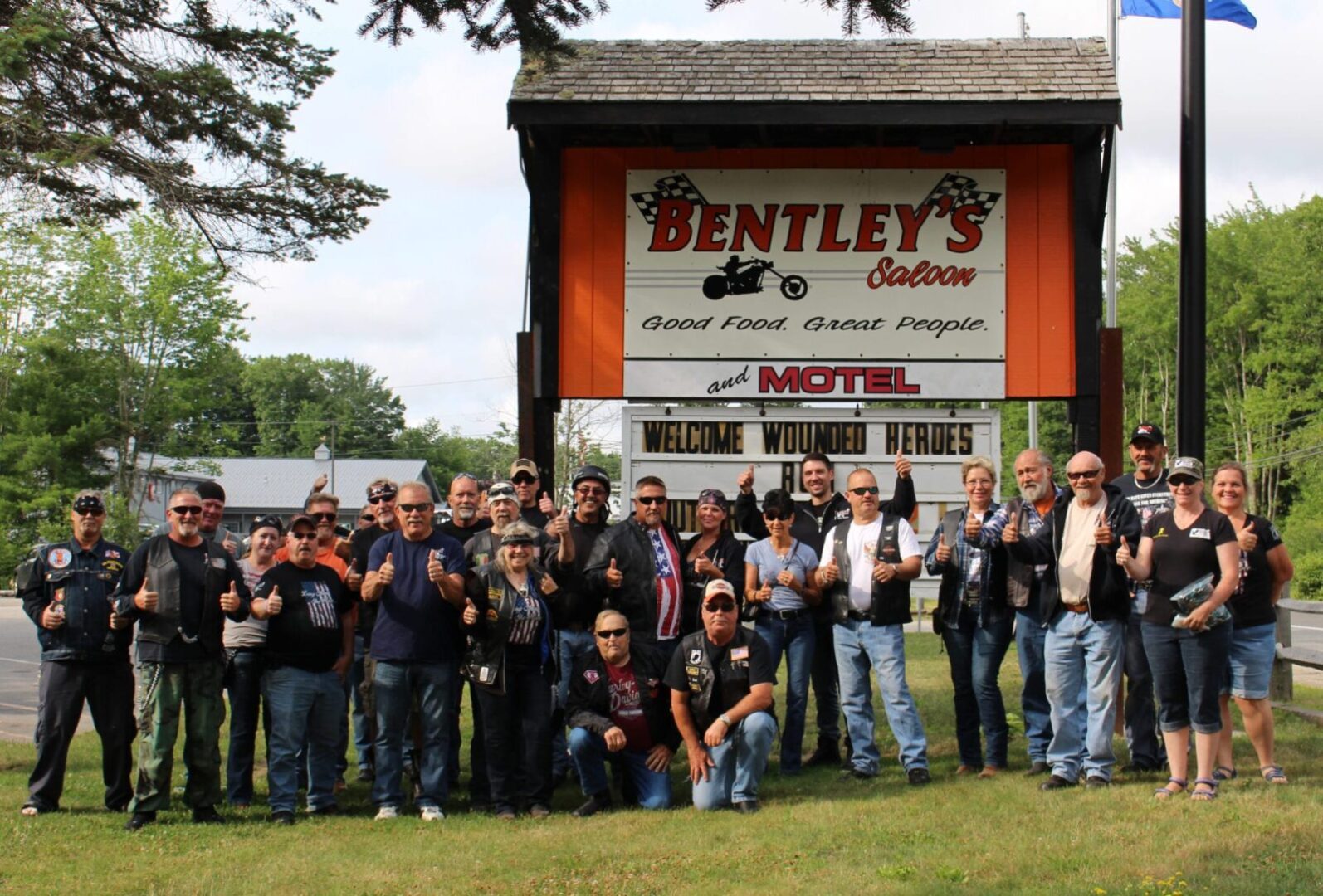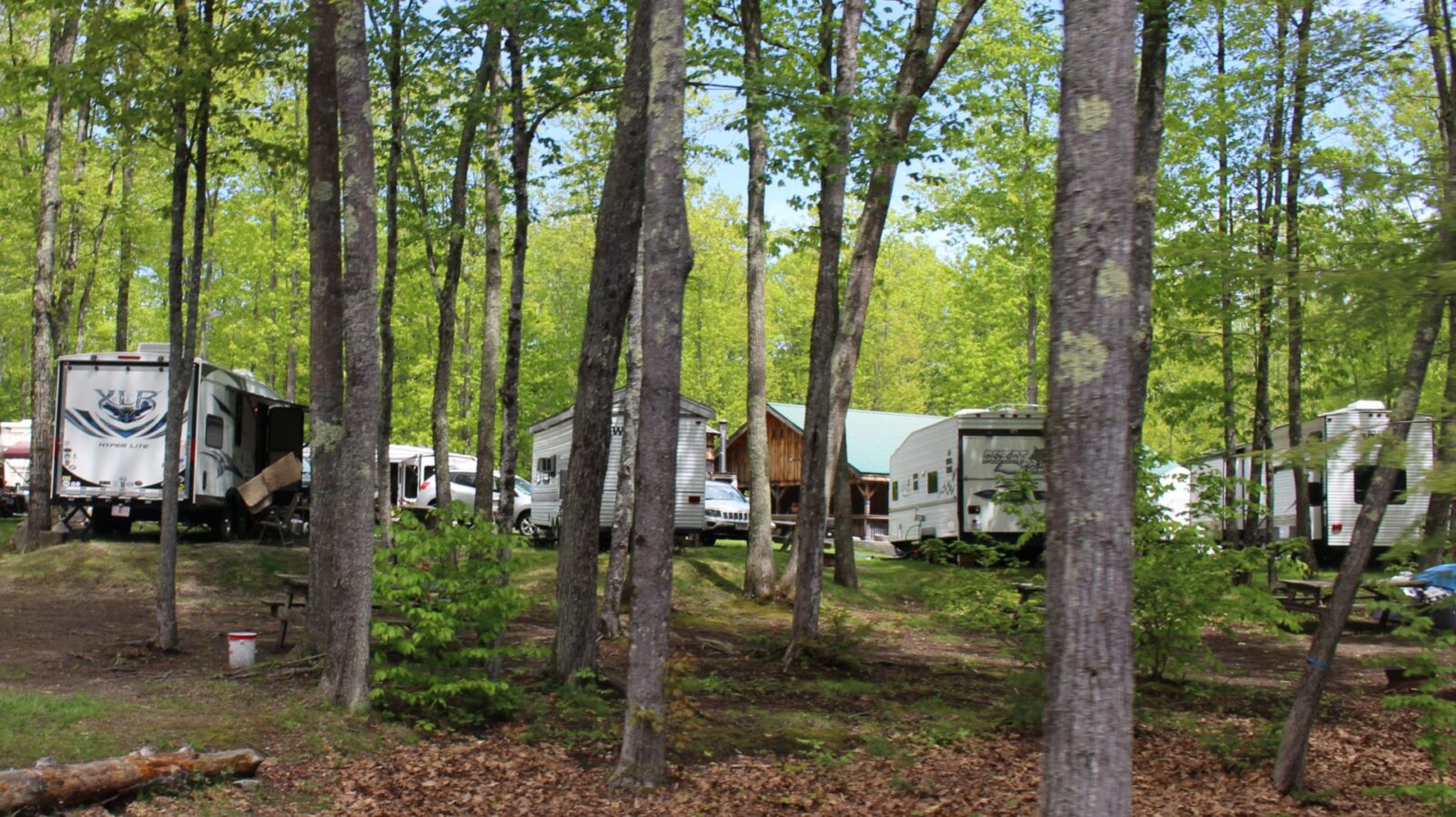 WE ARE CURRENTLY WORKING ON 2021 SEASON RESERVATIONS SYSTEM & KEEPING UP TO DATE WITH GOVERNOR'S ORDERS. SIGN UP FOR OUR NEWSLETTER TO STAY INFORMED WHEN WE WILL BE TAKING RESERVATIONS OR KEEP YOUR EYE ON OUR WEBSITE.
Bentley's Campground was constructed in 2007, and thanks to our returning guests and new guests, we continue to add more sites. Both the campground and motel rooms are within walking distance from the Saloon.
Our campsites are up to 100 feet in length and full-service; each with 20/30/50 AMP, water, sewage, firepit and picnic table. The bathhouse in the campground is known by our guests to be one of the best in the country with spacious, high-pressurized, free hot showers, modern toilets and brightly lit vanity areas with electrical outlets.  Washers/dryers, an outdoor sink and soda machine are located at the bathhouse.  There are two dump stations located in different areas of the campground.
Want to experience the campground, but don't have a recreational vehicle, we have park models available that sleep two up to seven people. Children and pets are welcome at the campground, but it's usually an adult party atmosphere on the weekends, where some children may feel uncomfortable. For safety, pets must be kept on leashes and are not permitted in park models or motel rooms.  We have 6 motel rooms with queen size beds, televisions, ac/heat, refrigerators, bathrooms and coffee. The motel is right by the saloon. If you're a tenter, we have limited space available - for more information, give us a call at 207-985-8966.
We're within walking distance of authentic antique flea markets, minutes away from beaches, grocery stores, and the historic district of Kennebunkport, known for its fine shopping and dining, and fishing charters.
Ready for a memorable camping adventure? Just look for Bentley's favorite old camper on
Route 1 in Arundel, Maine!
Seasonal Sites are booked up for the 2021 season. If you wish to be considered for a seasonal site should there be a cancellation, email campground@bentleyssaloon.com. Thank you.
2020 CDC guidelines for COVID19:
(This section will be updated with the 2021 CDC guidelines.)
* We booked reservations for full-service RV sites and park models by phone only (no on-line or walk-in). We did not take reservations for tents  or motel rooms.
* Water, sewer and electric are available at all full-service sites, including Andy K Way (our newest area for Class A Motorcoaches and RV's with trailers/haulers & stackers hitched). 
Maine's guidelines for the 2020 season:
* Guests from states other than Maine, Massachusetts, New Hampshire, Vermont, Connecticut, New Jersey and New York will need to complete a Certificate of Compliance form indicating they have received a negative COVID-19 test result, that they will quarantine in Maine for 14 days, or that they have already completed their quarantine in Maine.  Please download & email us the form or be prepared to provide it upon arrival:  Certificate of Compliance
Guests were not permitted to enter gift shop for check-in process. 
* Refunds were allowed for cancellations made at least seven days in advance of scheduled arrival.
* Only 4 guests per site.
* Patrons were to wear face coverings in public areas whenever physical distancing was not possible.
* Guests not come if they had a fever or cough.
* Guests maintained 6 feet physical distance and wore cloth face coverings when in any general gathering place.
For more info re Maine's Guidelines relating to COVID19, click here
Reservations Phone 207-985-8966 ext 0
Email: Campground@bentleyssaloon.com
Please sign up for our newsletter to stay informed.