Bentley's Saloon Sightings!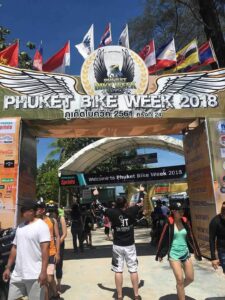 Have you or have you seen someone spotted in another state or country wearing a Bentley's Saloon tee, sweatshirt, hat, leather or seen a sticker? Since 2011, we've been collecting these photos and posting them in our photo gallery and highlighting one weekly in our newsletter. Our gallery contains more than 1,200 pictures! Bentley bought the front bar in 2004 and never dreamed it would turn into a destination place! The best is hearing the friendships developed when people meet each other for the first time when they spot someone else wearing a Bentley's tee! We appreciate the support! "Who has more fun than us? .... We do!
Click here to view and share the pictures!
   Crusin Night Car Shows!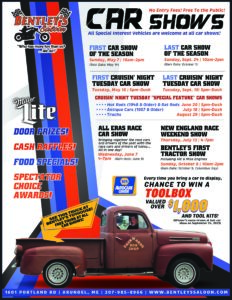 Bentley's hosts Cruisin' Night Tuesday Car Shows and a few special interest shows throughout the season.
Often times there are more than 100 cars on display! There are no entry fees for car show owners or spectators. Car show owners receive door prizes, spectator choice awards and a chance to win a FREE toolbox valued at $1,000.  We offer cash raffles for everyone to play and donate a portion of the money to our Town of Arundel's Holiday Program for local residents in need of a helping hand during the holiday season.
LAST CRUISIN NIGHT CAR SHOW OF SEASON SEPT 24, 2023
==========
Our season end car show on Sunday was quite amazing! The predicted weather forecast was not in our favor but it turned out to be perfect for the show! We had 250 special interest vehicles on display, lots of spectators and so many feel-good stories shared.
Who won the toolbox donated by Sanel NAPA Biddeford Store and Gear Wrench?  Dan Douville from New Hampshire!  He shared a story that his winning green tix ended in the number 73, which is his race car number!!
Are you all familiar with Bentley's backwards truck? Well, the man who built the truck, Gary Eastman, was at the show and was thrilled to meet Bentley.
A huge thank you goes out to everyone who participates with the cash raffles because with their participation the portion we are able to donate to our Town of Arundel for the Holiday Program for the less fortunate is $2000.00!!
Spectator Choice Awards:
First Place:  Todd Sposato, 1923 Ford Model T
Second Place:  Roger Lawdry, 1971 Chevy C-10 Pick Up
Third Place:  Steve Franklin, 1970 Ford Mustang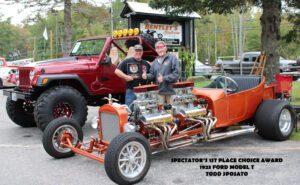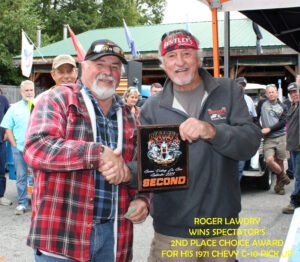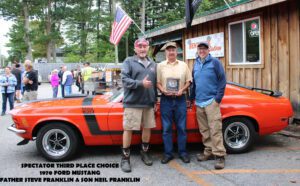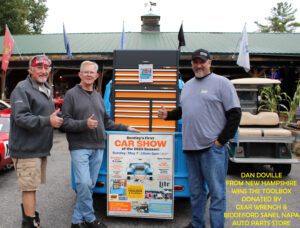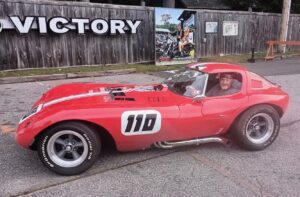 Also special thanks to our car show sponsors who donate raffle prizes - Nappi Distributors, Shields Meat Market, The Lobster Company, Dairy Queen Kennebunk, Past & Present Auto Repair, Sanel NAPA Auto Parts Store in Biddeford, Aquaboggin and the Animal Hospital of Saco!
Visit our Car Show page to watch a video taken by Billy Roberge of this show.
2023 Crusin Night Archive- Winners and Link to Albums
Talk like a Pirate Day Costume and Dance Party!
Sept 22, 2023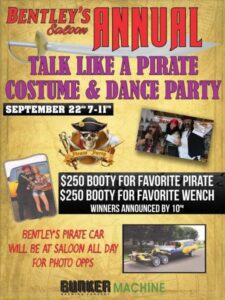 ==========
The Talk Like a Pirate Day Costume and Dance Party sponsored by Bunker Brewery and hosted by DJ Keith, the Loud Proud American was another epic party. There were at least 50 pirates and wenches dancing and talking like pirates!!
Our first Talk Like a Pirate Day Party was in 2010!!
Corey Bean and Carrie Hale each won $250 for favorite pirate and wench!
Wounded Heroes Ride July 8, 2023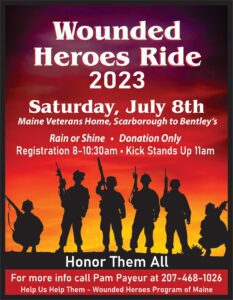 ==========
The Wounded Heroes Program of Maine
is a 100% volunteer-run organization led by Pam Payeur to help support veterans while they wait for their disability claims.  The supporters and riders for this benefit visit veterans at the Maines' Veterans Home in Scarborough and are police escorted back to the Saloon for a patriotic ceremony to show support of our veterans.  Thank you to all the bikers, supporters and donators for this very special day that touched so many lives. This year's theme tee-shirt "Honor Them All" is available at Bentley's Gift Shop for only $15 to continue to support our veterans.  
Meet Tracy- 2023 Miss Bentley's Pinup!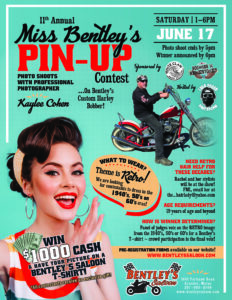 ==========
Our 11th Annual Miss Bentley's Pin-Up contest for the first time was held on our inside backstage because it rained all day!!  Didn't stop these beautiful, brave women from entering the contest sponsored by White Claw!  There were 44 contestants, 6 judges, 1 professional photographer Kaylee Cohen, 1 ecmee the Loud Proud American Keith Liberty, 2 hair stylists Rachel and Roxanne and the entire back bar and motorcycle viewing deck filled with patrons, the outside tent filled with patrons, the front bar filled with patrons and the rampway leading to the back bar filled with wet motorcycle gear!  It was a spectacular day!
Miss Bentley's Pin-Up Gal is determined by a panel of judges who are given a scoresheet based on points for specific categories.  The contestants with the top three scores are called to the stage and the final decision is based on crowd participation.  It's never easy.  This contest's panel of judges were Andrew Desmond, White Claw rep; Rae Finn, owner of Hog Wash N Rhinestones; Matt Perfetto, Nappi Distributors rep; Steve Wallace, owner of Southern Country Customs, Ali Liberty, former Miss Bentley's Pin-Up Contestant; and Courtnie Potvin, Miss Bentley's 2022 Pin-Up Gal.  The top three girls this year Tracy, Rebecca and Skylee received a White Claw bucket filled with swag from White Claw, Loud Proud American, Hog Wash N Rhinestones, Sickies Garage, Big Moose Harley Davidson gift cards and merch from Bentley's Gift Shop.
Tracy Miss Bentley's 2023 Pin-Up Gal received $1000 cash and one of her pictures from the contest will be on a Bentley's Tee-Shirt!!
Thank you to all the women who entered, all the sponsors and support!!
Click here to view our 11th Annual Miss Bentley's Pinup Album!
Ride in Bike Show!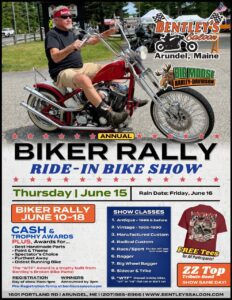 Our annual Ride-In Bike Show with sponsorships from Big Moose Harley Davidson and Budweiser was spectacular, best show ever! Weather was in our favor, and there were 57 bikes on display from all over the country! Each participant who registered their bike received a limited edition Bentley's Saloon "Contender" 2023 Biker Rally tee shirt! A secret panel of qualified judges took their time as it wasn't easy with so many bikes worthy of awards! All winners received trophies and first place winners received $150 in cash and second place winners received $50 in cash. With the "WTF" - unusual looking bikes, "art" or "rat" that run or don't run - category winner, Jeff Dawson who had a "2021 Homebuilt Custom", winning the handbuilt trophy by Lewis Leonard out of Bentley's old bike parts!! Jeff was also awarded the Best Handmade Parts plaque and the Best in Show Judges award of $250 and biggest trophy!!
Along with the gratitude to our sponsors, the success of this show wouldn't be possible without the dedication of friends Lewis Leonard, Tom Crompton, Brian Carpentier, Dino HP Cycles and our secret panel of judges. Stevie from Seacoast Harley Davidson – thank you for bringing the jump start bike for patrons to test out!                                                     SHOW CLASS WINNERS -
Antique – 1965 and before
1st place: 1937 HD Black Flathead owned byBill Dennison
2nd place: 1946 Indian Chief owned by Peter Grace
Vintage – 1966 through 1990 (30 years or older)
1st place: 1965 Honda Dream2nd owned by Bruce Thompson
2nd place: 1967 HD FL owned by Wayne Heal
Manufactured Custom – Any Custom bike built by a franchised company, American Modified Stock or Metric Modified Stock with original engine, frame and front end
1st place: 2011 HD Road Glide owned by Clyde Janvrin
2nd place: 2015 Custom Chopper owned by Tracey Abbott from Indiana
Radical Custom – Builders' Class. This includes any Custom, American Modified Stock or Metric Modified Stock motorcycle with major changes to engine, frame, front-end or fabrication. This class includes bike builders, one-offs, completely fabricated bikes and bikes with superchargers, blowers, NOS, etc.
1st place: 1969 HD XLCH owned by Wayne Heal
2nd place: 2008 Boss Hog owned by Jim Wentworth
Race/Sport – Any performance-oriented street or race bike, includes hill climb bikes.
1st place: 1942 HD owned by Allan Raymond
2nd place: 1973 HD Sportster owned by Phil Davis
Bagger – Includes all baggers, sport and touring. Bags (hard or soft) mandatory. Fairings optional.
2nd place: 2016 Roadmaster owned by Mark Becman
1st place: 2013 HD Street Glide owned by Jason Simkis
Big Wheel Bagger – Baggers that have a larger than stock front wheel. Includes modified frame that changes the rake of the front end.
1st place: 2009 HD Road King owned by Clyde Janvrin
Sidecar and Trike
2nd place: 2011 Boss Hog Gangsta owned by Charlene Campbell
1st place: 2019 Indian Roadmaster owned by Bill Tajue
OTHER SPECIAL AWARDS
BEST PAINT Plaque (judge's decision) - 2002 Jessie James Wild West Peacemaker owned by Rebel from Rhode Island
BEST THEME Plaque (judge's decision) - 2015 Custom Chopper owned by Tracey Abbott from Tennessee
OLDEST RUNNING BIKE participant Bill Dennison with a 1937 HD Flathead won a $100 Bentley's Gift Card
SPECTATOR'S CHOICE participant Clyde Janvrin, who has missed only one of our Ride-In Bike Shows, won a $100 Bentley's Gift Card and a Braggin' Rights Certificate for his 2009 HD Road King which shoots out flames from his trick exhaust system!
Albert Borges who traveled 1,568 miles on his 2022 HD Street Glide from Pembrook Pines, Florida, won a $100 Bentley's Gift Card. The next furthest distance was Bill Dennison who traveled from Jupiter Florida, $1,505 miles!
Thank you to all participants for an epic Ride-In Bike Show!!
Disco Party Pictures!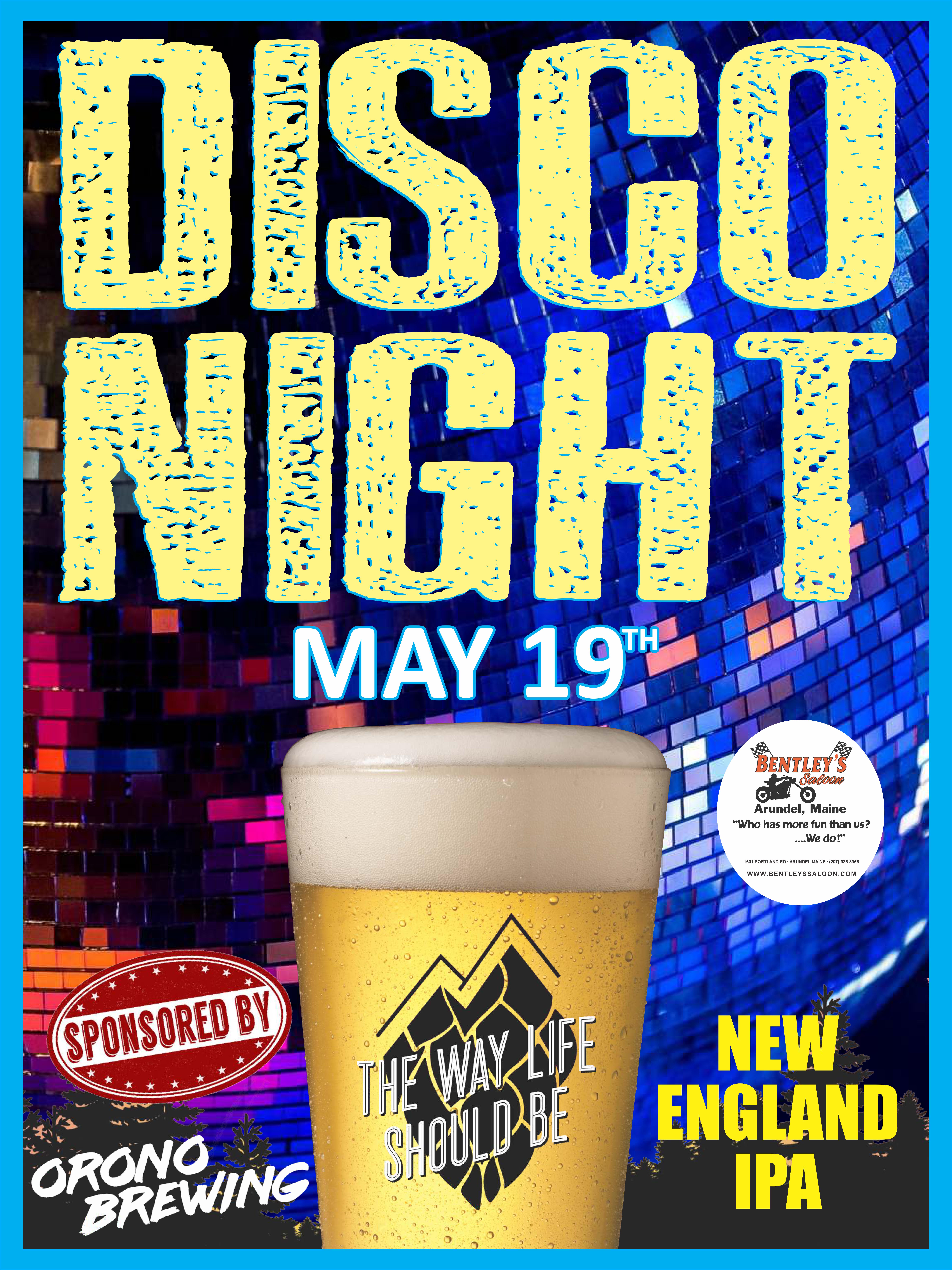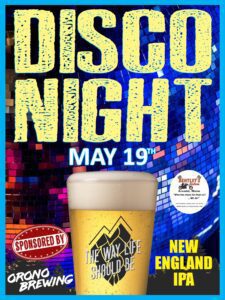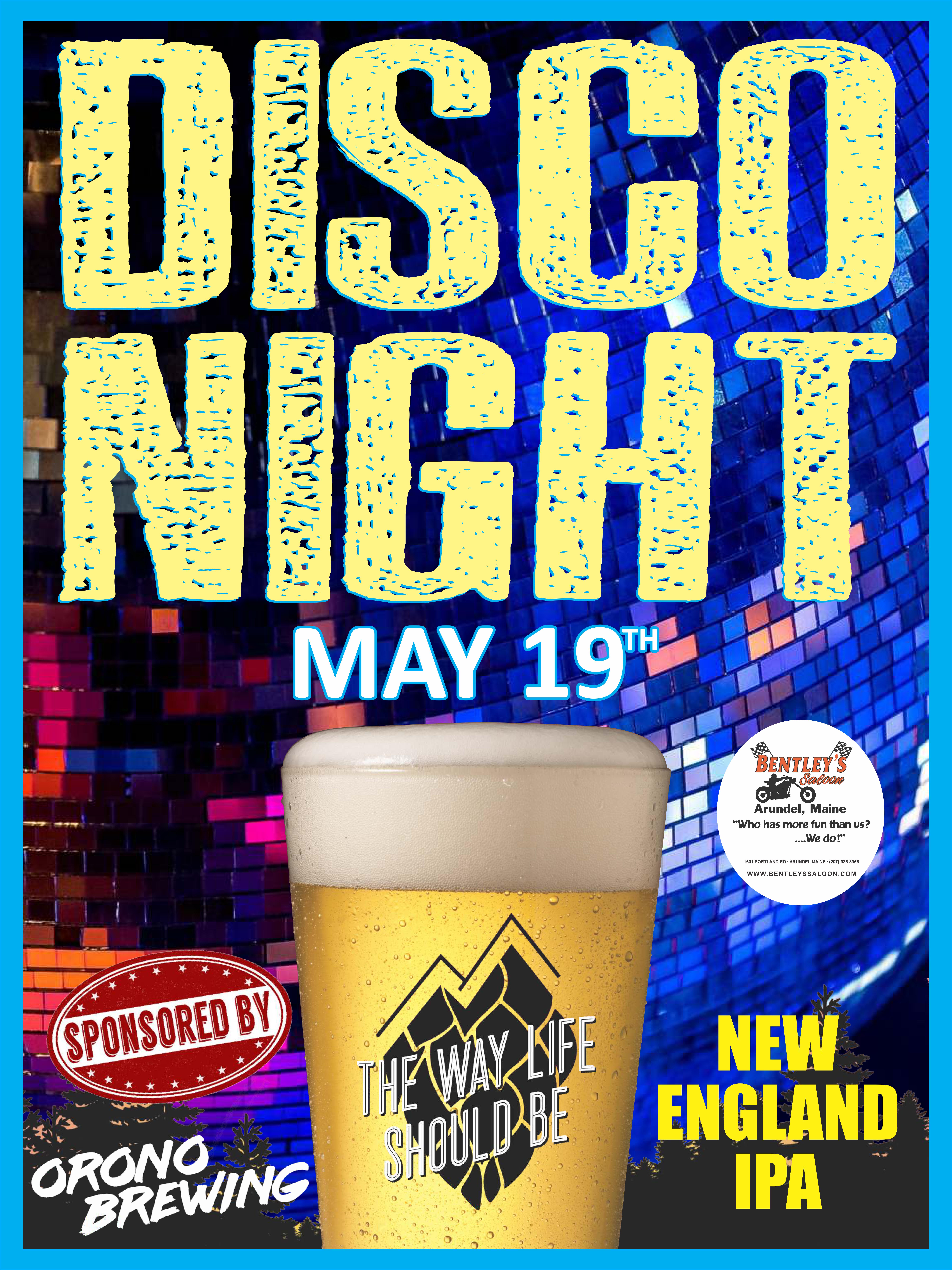 Special thanks to Orono Brewery for sponsoring our Disco Party this year! As always, it was one of our dancers favorite costume parties hosted by the Loud Proud American and DJ Keith, who kept us dancing for hours!!
All Eras Race Car Show!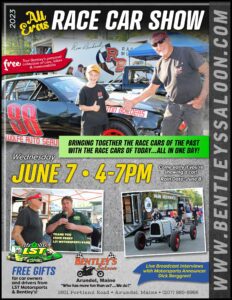 We hosted our annual All Eras Race Car Show on June 7, bringing together the race cars and drivers of the past with the race cars and drivers of today! The young talented 
Matt Seymour Racing
 team with 
Jake Trainor Racing aka JMT Racing
 attended! In only his second career start in a sprint car, rookie driver Jake Trainor captured the 75th running of the Lucas Oil Little 500 at Anderson, Indiana!
Steve Perry owner of LST Karting Motorsports 
Mainely Karting Videos
 has been a huge supporter of our All Eras Race Car Show since the inception, and once again he presented the guys with plaques honoring 3-time Oxford 250 Winner Travis Benjamin. The 
New England Racing Museum
 invited the Bobs Radio Show! The Bobs and Steve Perry interviewed Bentley and several other drivers live! Maine Motorsports Mobile Museum, Ron Bouchard Museum and nearly 50 racers with their cars from local tracks and several spectators and race fans joined us for this show. It rained nearly the entire show, but race people don't let the weather stop them from having fun!
Memorial Day Weekend!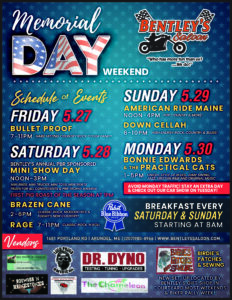 Weather was perfect for Memorial Weekend 2023!  Friday night we were honored to have Whey Jennings, the grandson of the legendary musician Waylon Jennings, perform with his band on our outside stage! Other awesome bands performed - Holly Heist, Dock 10, Rock In On, American Ride and Cold Train, a tribute to great American Southern Rock. 
Vendors Simply Leather, The Chameleon, Loud Proud American, and Wicked Paintworks set up in the front parking lot and bikers were countless!
  On Saturday, we hosted our first "Bad Ass" Motor Bike Show and over 25 special motor bikes were on display.  Some were especially built just for this show!  Special thanks to PBR for their continued sponsorship and Brian Carpentier!
Spectators voted on their favorite motorbikes and the following guests were awarded with specially designed PBR Can Trophies!  
1st Place - 
Derek Zedon from Manchester, NH - 
"Rat Bastard Hog Hauler" 

 
2nd Place - J.D. Bradbury from Westbrook, ME - Colman 200
3rd place - Paul Hoffman from Preston, CT - Custom-made 3 Wheel with Wood Back
Guests  Jason Willey and Sarah Wilson won a set of PBR Cornhole Boards
Micro  Wrestling All Stars!
Our first-time ever Micro Mania Midget Wrestling All-Stars Show was an epic, huge event, not a small event!  Everyone that attended had an epic time, too!  The wrestlers and patrons all agreed!!  They look forward to coming back and we look forward to their return Columbus Day weekend, October 7th!