Bentley's 13th Annual Ride-In Bike Show
June 15 @ 11:00 am

-

3:00 pm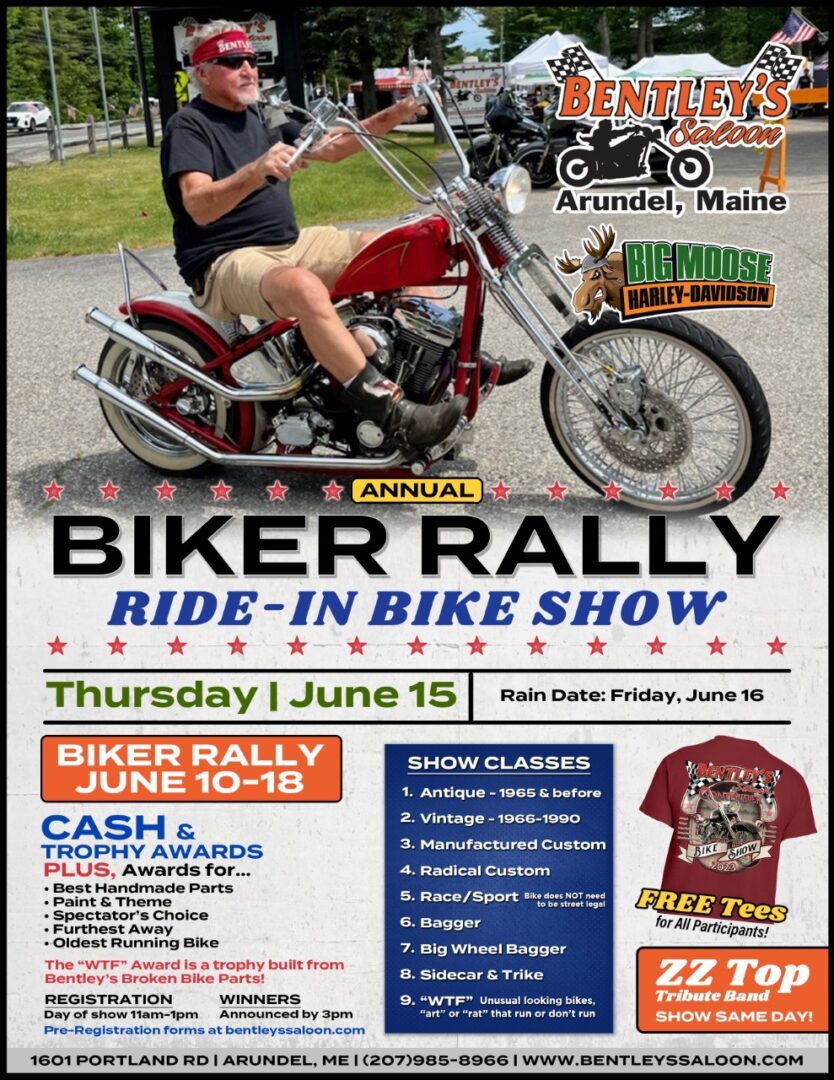 Bentley's Saloon & Big Moose Harley Davidson
Biker Rally Ride-In Bike Show
With One Exception for "Ride-In" the "WTF" Class
Thursday, June 15, 2023 (Rain Date Friday, June 16, 2023)
Registration is from 11:00 am til 1 pm, and winners will be announced by 3:00 pm.
Bentley's Saloon, 1601 Portland Road, Arundel, Maine
FREE EXCLUSIVE EVENT TEES FOR ALL CONTESTANTS!
BIKE SHOW RULES
All bikes must be operable and licensed with one exception for the "WTF" class.  For all other classes, this is a Ride-In Show. If you must trailer your bike to the event, you must start it and ride from the parking area to the Bike Show area to be allowed in the show.  Contestants are responsible for choosing the correct class for their bikes. The judges reserve the right to move a bike to another class they believe it belongs in at their discretion.  No registration fees will be refunded.
 SHOW CLASSES
Antique – 1965 and before
Vintage – 1966 through 1990 (30 years or older)
Manufactured Custom – Any Custom bike built by a franchised company, American Modified Stock or Metric Modified Stock with original engine, frame and front end.
Radical Custom – Builders' Class. This includes any Custom, American Modified Stock or Metric Modified Stock motorcycle with major changes to engine, frame, front-end or fabrication. This class includes bike builders, one-offs, completely fabricated bikes and bikes with superchargers, blowers, NOS, etc.
Race/Sport – Any performance-oriented street or race bike, includes hill climb bikes. Bike does not need to be "street" legal.
Bagger – Includes all baggers, sport and touring. Bags (hard or soft) mandatory. Fairings optional.
Big Wheel Bagger – Baggers that have a larger than stock front wheel. Includes modified frame that changes the rake of the front end.
Sidecar and Trike
"WTF" – Unusual looking bikes, "art" or "rat" that run or don't run.
 AWARDS
BEST IN SHOW (Judge's Choice) – $250 + Trophy
FIRST IN CLASS – $150 + Trophy
SECOND IN CLASS – $50 + Trophy                       
BEST HANDMADE PARTS – Plaque
BEST PAINT – Plaque
BEST THEME  – Plaque
"WTF" – Trophy Built from Bentley's Broken Bike Parts
SPECTATOR'S CHOICE – $100 Bentley's Gift Card to Buy Your Friends a Round & Braggin' Rights Certificate
FURTHEST AWAY – (actual home address as indicated on driver's license) – $100 Bentley's Gift Card
OLDEST RUNNING BIKE – $100 Bentley's Gift Card
Disclaimer:  Bike Show classes will be judged solely on the personal preferences of the judges.  Judges decisions are based on quality of bike, not brand, model, or who the owner is. We do not claim that judges are experts on the subject matter and may not be completely sober at all times.  No score sheets will be made available for review by contestants. No whiners or crybabies please…this is a fun event.  Good Luck!